iPad test for work or for students
Test: iPad for work or for students
Always looking for more productivity in my uses and less stuff to carry when I travel, I decided to invest in a 2022 iPad Air a few weeks ago. A little feedback below, both for professional needs and in a more personal context.
Strong points
Great leisure tool at home
A real multifunction computer on the go
The autonomy and the ultra easy recharge on the go
The M1 chip for top performance, including editing
Limits
No face ID or unlocking with the Apple Watch
The battery widget that does not allow to have status of the iPhone and the Apple Watch
256 GB storage almost mandatory for professional AND leisure use
The price, not so good compared to a MacBook Air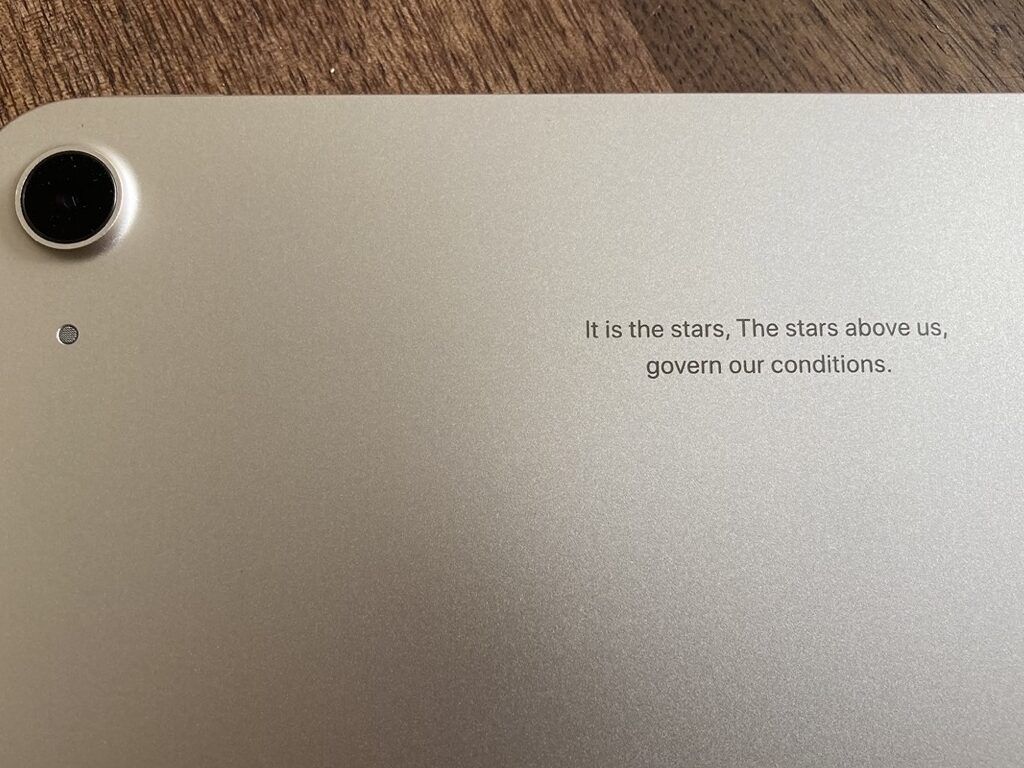 A small engraving with a very personal symbolism. #Shakespeare
A little personal history
I was one of the very first buyers of the iPad, the first model, long before I became a user of the whole Apple ecosystem. At the time, I had a Dell that did the job very well for blogging and other more professional tasks. My 1st generation iPad was used to read comics and to surf the internet.
Using WordPress at the time was anything but a good idea. In 2016, when I was a full time travel blogger and needed a more compact and recent (performing) computer than my Dell, I asked myself about the iPad, which was not yet quite ready for a really professional use. I finally chose a used MacBook Air 11. My second Apple purchase.
A little happiness, ultra light, that I could carry with me almost all the time without loading and weighing me down. I even went on several days treks in Scotland !
Little by little, I replaced my different devices by Apple products: My Dell by a refurbished MacBook Pro in 2019, my Samsung Galaxy by a refurbished iPhone SE in 2020 and I even fell in love with a second hand Apple Watch and Apple TV in 2021. In short, I'm a total convert. However, my little MacBook Air 11″ has started to get old, and I find the MacBook Pro cumbersome for my numerous business trips (daily, in Nantes, to give courses, or over several days) and other trips.
Anyway, I asked myself again about the iPad in February. And at the beginning of March, the announcement of the 5th generation iPad Air, with an M1 chip, solved my questioning. I started using it, and after a few weeks of use, I am not disappointed.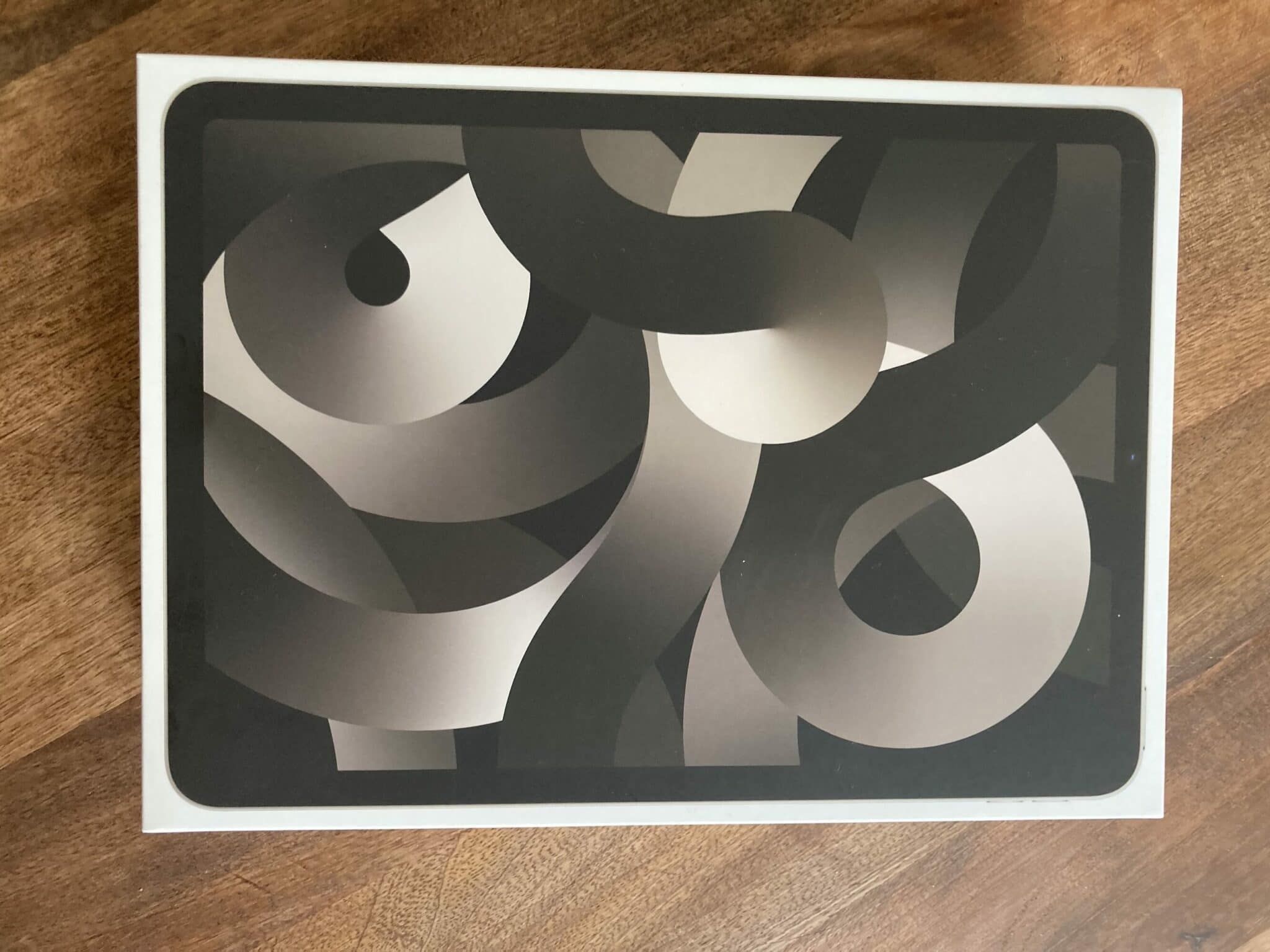 A very classic box for a rather banal unboxing experience
iPad for work
The iPad Air 5 uses a 10.9″ LED backlit screen with a resolution of 2360 x 1640 pixels. It&#8217s unlocked with a Touch ID fingerprint sensor on the power button, and there&#8217s no option for Face ID. The button is thin and is placed almost flush with the body of the tablet.
Even though I'm used to Touch ID on my iPhone SE, it took me a while to get used to it, and if I don't have Face ID, I really regret that unlocking with the Apple Watch isn't possible.
On the performance side, the M1 chip is impressive. No crashes, no bugs, no worries in one month of use, whether for leisure or for business. I am really looking forward to testing some editing with the LumaFusion app but I will have to wait a few more weeks.
I was able to find almost all the applications I usually use on Macbook and iphone: Microsoft Teams, Office, Canva, Google Drive, Sheets, Slides, Zoom, Notes… The apps are pretty well done and I don&#8217t really feel any loss of efficiency most of the time. On the contrary, on teams I finally have the possibility to change my account in a few seconds, which I could not do on Mac with pro accounts.
As for the interface, it is really excellent. Apple&#8217s iPadOS is fast and powerful, and if you have already used iOS on an iPhone, you will adapt to it immediately. However, take the time to learn the intricacies of it, because its functions are intuitive and will save you time, I was won over.
The multitasking on the iPad works great, and it even keeps the multitasking screen as a separate element in the application switcher screen, so you can minimize it and look at something else without losing your existing workspace.
Getting the most out of iPadOS is easy if you use Apple&#8217s ecosystem, which I do regularly. Sending files from my iPhone using AirDrop is fast, I stored videos in iCloud from my Mac and downloaded them to the iPad without a problem, same for all documents. The widgets on the home screen are a joy for productivity. I have access to almost everything I want super fast.
Only the battery widget disappointed me because it doesn&#8217t display the battery level of the iPhone and the Apple Watch.
Here I was a geek, and I optimized the home screen with widgets
Beware of the camera in video, which is off-center when you hold the iPad in landscape position for a rendering on Teams or Google Meet. Also, I tested the connection of the iPad to my 4K screen and I didn&#8217t find the rendering as qualitative as the Macbook pro but it&#8217s maybe a question of adapter or settings.
IPad for courses
The new iPad Air works with a USB-C port, which includes the ability to connect to many monitors via HDMI with the right HDMI adapter or cable. This means you can work on and present presentations without having to lug a large laptop to class every day. This additional use on a device as portable and light as the iPad is ideal for students, or like me, professionals on the go who often have to make presentations. Today, it is still necessary to use cables and adapters, but with the generalization of smart monitors, we can imagine that in a few years, everything will be done in airplay / Bluetooth.
Airdrop is a magic tool to exchange documents between students. Google Drive related applications (Sheets, Docs, Slides…) work seamlessly for collaborative work.
The accessories to work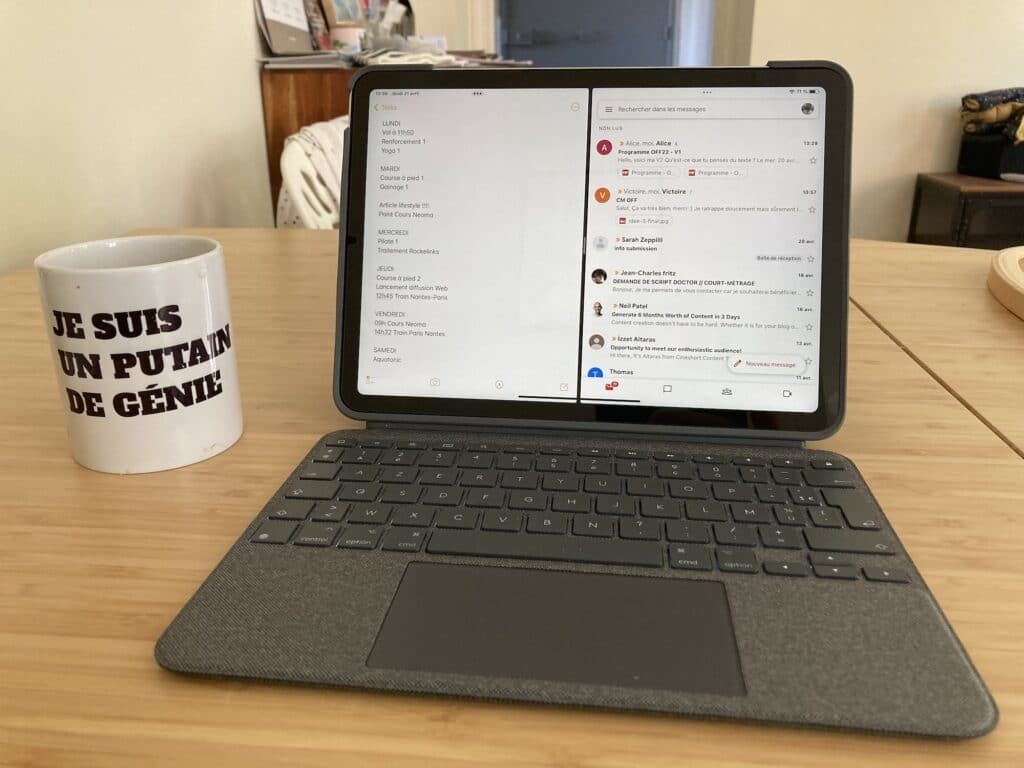 Logitech Combo Touch Keyboard: Indispensable if you want to work with your iPad, which is really becoming a very small and powerful computer. The trackpad is a real plus. Once set up, I was a bit surprised by the thickness of the device.
You just have to remove the keyboard part of the case when you use it at home in the sofa. This doesn&#8217t take anything away from the protection. Price: 159,99€ (€)
Screen protector: As for a smartphone, an essential accessory to avoid any bad surprise in case of fall at the wrong gesture. Price: 10,99€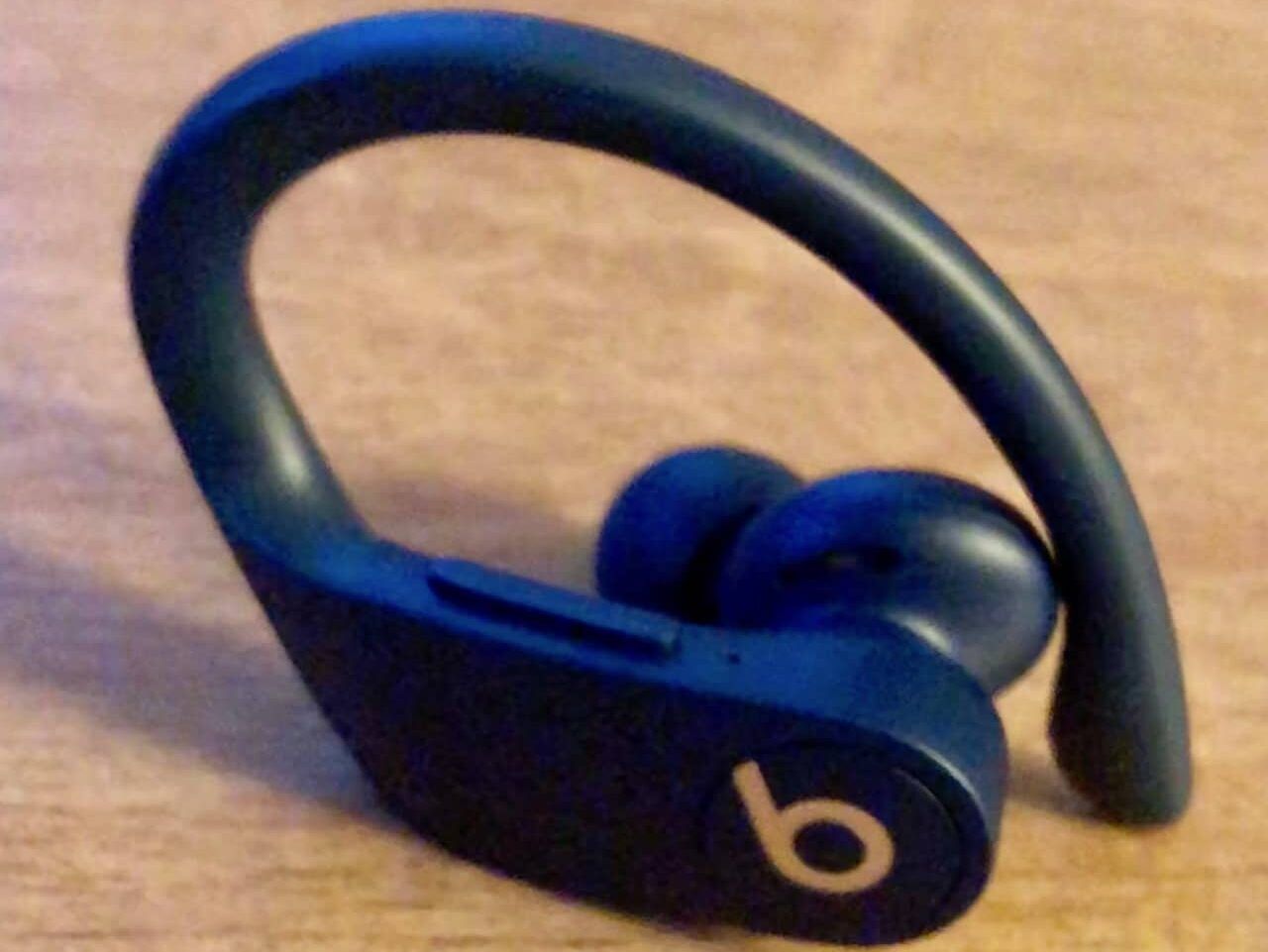 Powerbeats Pro: Already a Powerbeats user for two years, I was able to get my hands on the pro version. The connection to the iPad is immediate and I love the fact that the videos are paused by removing one of the headphones. In addition, the transition from the connection to the iPad to the iPhone and vice versa is quite natural.
Our full test for more details. Price: 230€
External charger: I took a lot of time to choose the right model for me. I wanted at least 10000mAh to be able to charge my iPad and my iPhone without constraints, and even my Apple Watch occasionally. And at the same time, I wanted a light charger and compact enough to carry it without cluttering up.
I only found this model, and if I have to wait a bit to judge its life span, it works perfectly for the moment and is discreet in my bag. Price: 20€
Tomtoc carrying case: Even if the logitech keyboard does a great job in terms of protection, I wanted a carrying case that could hold all my accessories, so I wouldn't have to carry a backpack around anymore. Today, a simple case is enough and it's very nice. Price: 37,99€ (€)
USB-C to HDMI adapter : I had too many bad surprises with adapters that didn't work with my Macbook Pro. So I made the choice to use the official Apple adapter, which has the advantage to give the possibility to charge the iPad at the same time since it includes an HDMI port but also a USB-C port and a classic USB port. Price: 58,50€ (€)
Not being a creative person, I made the choice not to buy a Pencil for the moment, but it is or indispensable tool for many jobs and uses.
And for leisure ?
If my first weeks of use taught me anything, it's that 64GB of storage on the iPad Air 5 is simply not enough for offline streaming and gaming. I find myself with 65 GB used after a few weeks, mostly for iCloud Drive, but also some video games and content downloaded on Netflix, Prime video and Apple TV streaming apps+.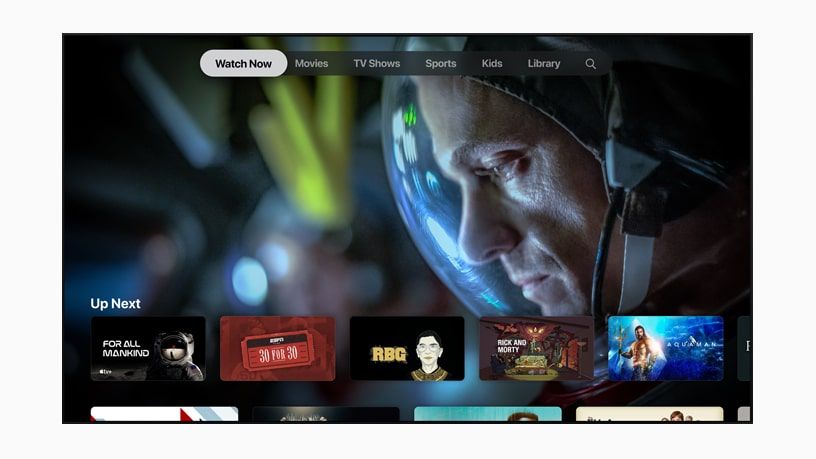 The quality of the Apple TV+ series is getting better and better (don't miss Severance and For all mankind) but all the streaming services work great.
I have a video projector, with sound bar, but I also have a 5 months old baby and I live in a condominium with walls even thinner than an iPad Mini. In short, the iPad offers a great streaming experience on the couch, as an alternative to the big screen.
As for Apple Arcade, it is really top, but it depends on the games. Some games well optimized (Mini Metro +). For others, like Asphalt 8 Airborne+, it's better with a controller (Apple TV, video projector and Dualshock work perfectly). In short, here again the iPad offers a great alternative for some, but is limited for others. The other big pleasure I take with the iPad is the use of Fitness+.
I did several sessions with the iphone, and even if I had an adapted tripod, it was still very limited to follow on a so small screen. With the iPad, I can follow the courses without worries. It also fits very well on my home bike, even though I already had the video projector option (but I have to close the shutters every time).
Let's come to the reading of comics, comic books or mangas. It was my main use in 2010, and today, it is really very secondary. However, I must still welcome the progress. I use the Chunky app, and it's much more qualitative than what I used to use at the time, as much for the comfort of reading as for the loading of files, the organization of the library..
Conclusion
If you read the whole article, you must have understood that if everything was not perfect, I was delighted. It&#8217s far more convenient than a MacBook or iPhone for home entertainment, and almost as effective (but far less cumbersome) than a Macbook on the go. And the battery is a big plus compared to a Macbook: more than 10 hours of autonomy for the iPad Air 5th generation. Charging is a bit slow, but since it is unlikely that I will run out of battery during the day, this has never been a problem for me. And if that happens, I have my external charger that can help me out in any context.
Last but not least, the following points should be addressed. There have been reports online that the iPad Air 5 squeaks when you press "its back" and concerns about its build quality. No worries on my side, especially with the Logitech cover to protect it.
I really have no concerns about its durability over time.
The iPad Air 5 confirms the excellence of Apple's products, their interconnectivity, and their level of performance by offering the M1 chip at a price more than affordable. I am more than satisfied with the use of the iPad Air 5. Would I recommend an iPad instead of a Macbook ? No, still not. There are always situations, less and less frequent, where the laptop is more efficient.
The iPad remains a complement, or tool to improve the user&#8217s comfort in some situations, but not all the time. By its price (869€ for a sufficient storage + 159€ if we add the keyboard, essential to be able to work in an effective way), it is finally not less expensive than a Macbook Air of 2021 and thus remains "reserved" to consumers with a certain budget and an important use.